Company Profile
Company Info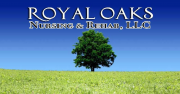 Royal Oak Nursing and Rehabilitation
4960 Laclede Ave.
St. Louis, MO, United States
Phone
:
314-361-6682
Web Site
:
http://www.royaloak.care/
Company Description:
Royal Oak Nursing & Rehabilitation is a 168 bed Skilled Nursing Facility located in St. Louis MO, in walking distance from Barnes Jewish Hospital. Royal Oaks offers a variety of services ranging from 24-hour skilled nursing care, individualized therapies, (OT, PT, ST, RT) Alzheimer's/Dementia Care, Hospice Care, and Respite Care.
Excellence is our goal and good outcomes in recovery and rehabilitation are our daily measures of progress. We will maintain a comfortable, dignified environment where our residents can enjoy an engaged, healthy lifestyle that will be a constant steady source of peace of mind to their families.
We pledge to be innovative in our processes and procedures, and to continually set the standard of excellence among skilled nursing facilities, where residents find their physical, social and spiritual needs met by caring, compassionate people.
Jobs by Royal Oak Nursing and Rehabilitation