Company Profile
Company Info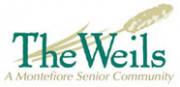 The Weils
16695 Chillicothe Road
Chagrin Falls, OH, United States
Phone
:
440.543.4221
Web Site
:
http://www.theweils.org/
Company Description:
Welcome to an active assisted living senior community that is like no other in the region. The Weils, a non-profit organization, owned and operated by Montefiore, a leader in senior healthcare, opened in 2002. In addition to our assisted living facility, our newly expanded campus offers a full scope of healthcare services to seniors and now includes a memory care wing and a rehab therapy pavilion, allowing us to offer a wide variety of services to the community and our residents.
The Weils is nestled on 46 pristine acres in Geauga County and is conveniently located in Bainbridge, Ohio just minutes from Chagrin Falls – and about 40 minutes east of downtown Cleveland. Nearby restaurants, shopping, movie theatres, healthcare facilities and golf courses add to the convenience of living at The Weils.
It's all about choices. Take full advantage of our experienced and professional staff that will assist you with anything you need, from helping with errands to taking you to a doctor's appointment. Enjoy the community feeling or be as independent as you would like knowing we're here for you.
The Weils combines the benefits of living independently with amenities to keep you safe and secure as well as a full array of life-enriching programs to engage your mind and body. Have a massage in our spa room, enjoy happy hour in the café or drinks on our front or back patios, test your golf skills on our putting green, go on one of our many cultural excursions or just get together with friends around our cozy fireplace.
"We are as assisted as you need and as independent as you want to be."
– Amy Simon, manager of community relations & admissions services
Our Mission
The Weils provides the finest in residential care, with services and amenities that exceed the highest standards of excellence. The Weils is dedicated to enhancing the distinctive lifestyle of its residents. Above all, The Weils staff of healthcare professionals is committed to helping residents promote and maintain their physical, emotional, mental and spiritual health and independence.
A History of Care
As part of the Montefiore family of healthcare services, Weils residents get the added benefit of having access to Montefiore programs and services including Memory Care, short-term rehab care, respite stays, long-term care, outpatient therapy, palliative, hospice and home healthcare services.
The Weils continues this tradition of compassionate care including 24-hour nurses and caregivers with private duty caregivers and aides also available. In addition, The Weils offers wellness programs such as exercise classes, a walking club and massage therapy room complete with hydro-tub.
At The Weils, we welcome all faiths and denominations. For more information regarding Montefiore, click here to be redirected to the Montefiore website.
Jobs by The Weils
The Weils
Chagrin Falls, OH
The Weils has an opportunity for a weekend RN Nursing Supervisor every Saturday and Sunday for our Assisted Living...
The Weils
Chagrin Falls, OH
RN's Join a winning team where people with high standards for care, customer service and compassion...
The Weils
Chagrin Falls, OH
Caregivers/Personal Care Assistant/STNA The Weils, A Montefiore Senior Community, located in Geauga County, has...